Equipment supply
At Acteco, we have the ideal waste optimisation equipment available in order to provide all companies with a convenient and profitable service from their own premises.
We provide customised solutions for every customer: containers, compacters, bailers, industrial parts cleaning machines, rotocompactors and waste cages supplied to our customers depending on each company's needs.
We are also committed to providing the required advice to take full advantage of the equipment's functionality, ensuring optimal efficiency during use. We have the best solutions to get the most out of any waste while increasing environmental and financial sustainability.
Good by nature
OUR EXPERIENCE
Over 20 years at your service.
OUR FUTURE
R&D+i is our greatest added value.
OUR COMMITMENT
The Environment, our top priority.
Equipment types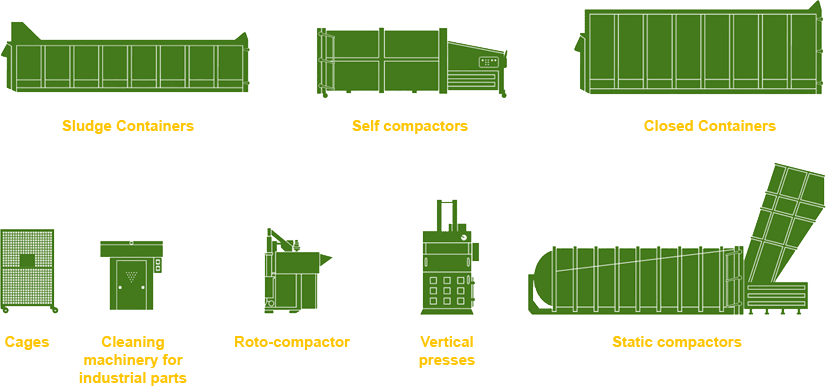 Industries

RUBBER AND PLASTIC
RUBBER AND PLASTIC
This sector is fundamental for ACTECO, and thanks to our work the trust of our clients has been returned with good results.

VEHICLES AND METAL
VEHICLES AND METAL
This sector, which has a wide range of departments and subsectors such as automotive or machinery, is one of the most active in the country.

FOOD AND COSMETICS
FOOD AND COSMETICS
In this sector, dealing with the environment is, if possible, more important than in the rest.

TEXTILE
TEXTILE
This sector, directly or indirectly related to the production and manufacture of clothing is one of the most worked.

PAPER AND CARDBOARD
PAPER AND CARDBOARD
The consumption of paper and cardboard, despite global warnings, continues to be reduced.

ELECTRONICS (WEEE)
ELECTRONICS (WEEE)
This sector deals mainly with electromagnetic devices.